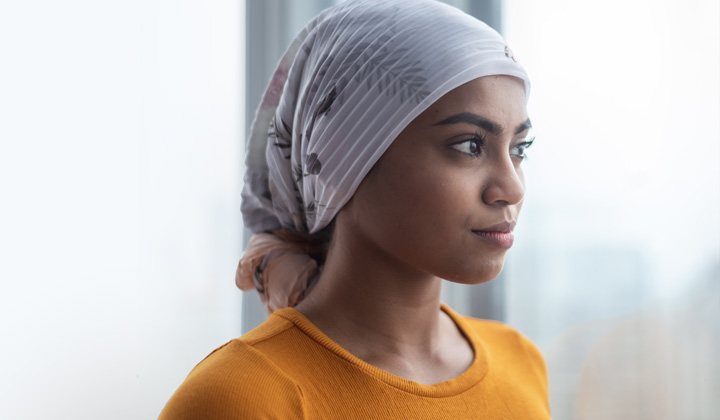 Improving Outcomes for Patients with Solid Tumors
OmniSeq INSIGHT® provides a comprehensive, easy-to-read report with clinical guidance for more precise, targeted therapies and trials for your patients.
INSIGHT'S Profiling Empowers
You to Make Better Decisions
From a single tumor biopsy, analyzed by advanced next generation sequencing (NGS) technology,
OmniSeq INSIGHT identifies treatment options in one comprehensive, easy-to-read report.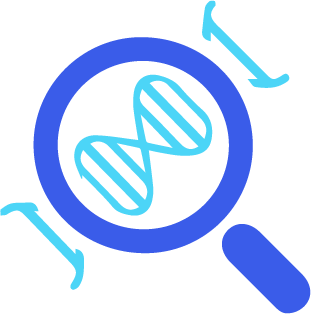 Genomic Profiling
523 Gene NGS Panel
Microsatellite instability (MSI) and tumor mutational burden (TMB)
DNA and RNA sequencing
Single nucleotide variants (SNVs) – insertions/deletions (indels), copy number alterations (CNAs) and fusions
Interrogation of full coding regions
HLA genotyping
Immune Profiling
PD-L1 by immunohistochemistry (IHC)
64 RNA expression/immune profiling genes by immune cycle step:

T-cell priming/trafficking
T-cell recognition
T-cell infiltration
Killing cancer cells
Cancer testis antigens
1
Single Tumor Biopsy
A single tissue sample provides complete insight into the tumor and its microenvironment.
2
Pan-Cancer Testing
The report provides comprehensive genomic and immune profiling for all solid tumors.
3
Treatment Options
A summary of FDA-approved therapies, immunotherapies and eligible clinical trials tailored to your patient's solid tumor.
Identify Approved Drug Candidates
Comprehensive Genomics

Detects all four main classes of genomic alterations
Fusions / splice variants using RNA-Seq hybrid capture
Coverage of clinical practice guideline-recommended biomarkers across solid tumor types
Immunotherapy Eligibility
Comprehensive Immune Profiling

MSI & TMB profiling
PD-L1 by IHC
Immune biomarker drug targets
Eligible Clinical Trials
List of patient-eligible clinical trials within 200 miles of patient's physical address1

Testing for biomarkers with clinical trial associations
Precision Medicine Comparison —
Comprehensive Genomic and Immune Profiling
 
Result
Labcorp Oncology
Omniseq INSIGHT
Foundation Medicine® FoundationOne®CDx
NeoGenomics® Neotype® Analysis Discovery Profile
Caris MI™ Profile Comprehensive Tumor Profiling
Tempus® XT V4
Genomic Profling
NGS for Targeted Therapy
523 Genes
324 Genes
323 Genes
700 at High Depth
648 Genes
RNA-Seq for Fusion Detection
Add on option
Whole Transcriptome
Whole Transcriptome
Tumor Signatures
Tumor Mutational Burden (TMB)
Microsatellite Instability (MSI)
Tumor Micro-Environment
PD-L1 by IHC
Add on option
Add on option
PD-L1/PD-L2 GEP*
CD3/CD8 GEP*
Immune Activation - Gene Expression by RNA-Seq
Tumor Infiltrating Lymphocytes (TILs)
Clinical Trials
Geocoded Clinical Trials for Targeted and Immunotherapy
Targeted Only
Not Geocoded
Targeted Only
Not Geocoded
Link to CT Connector
(Chemo + Targeted Clinical Trials)
Targeted Only
Geocoded But Not Tumor Specific
*GEP - genomic expression profiling
Data as of June 16, 2021
Patient Reports: Concise, Comprehensive & Actionable
Comprehensive Quick-Read Results
Gain actionable insights at a glance with:
Clinically significant results
Pertinent negative genomic variants
A therapy considerations summary
Flagged potential cancer-associated hereditary variants
THERAPY CONSIDERATIONS
Start to formulate a plan with:
Full-label indications
Treatment setting and approval status
Guideline evidence
Emerging clinical benefits
MARKER DETAILS
See the bigger picture with:
Full biomarker details
Gene, variant and prevalence information
Clinical Trial Options
Expand your patient's options with:
Number of trial matches per marker
Clinical significance for matched trials
Highly-expressed/positive immune genes with trials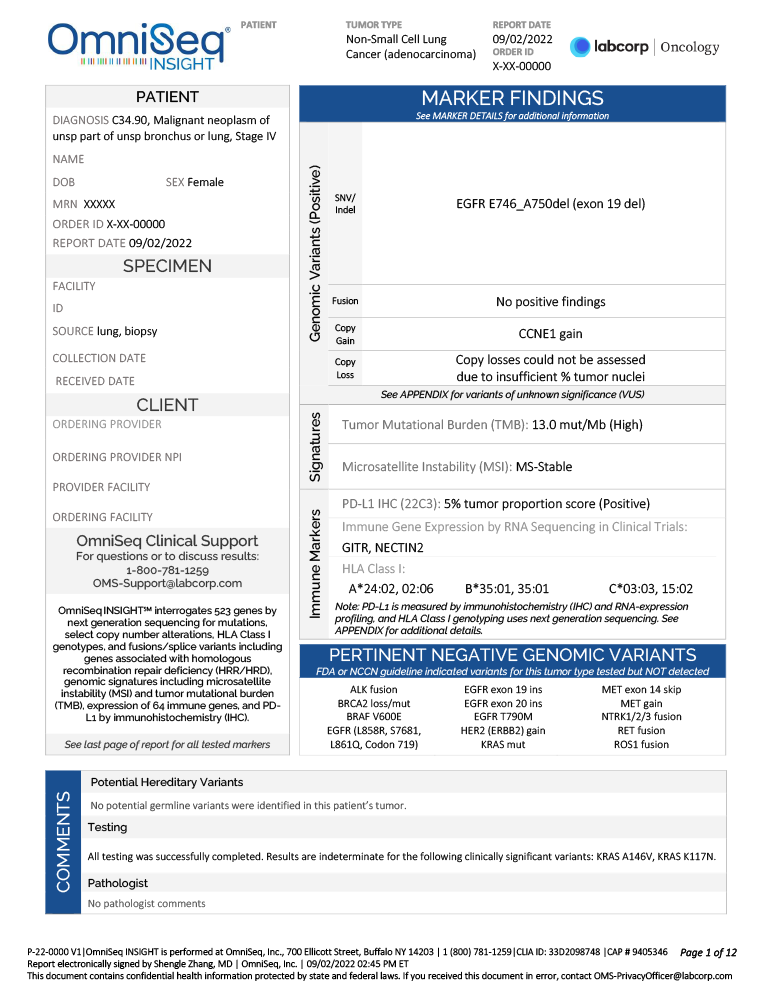 Analytical results:
Genomic variants results section by variant type (SNV/indel, fusion, copy gain/loss)

Clinically significant variants with reference to details pages

Sections always show, even if results are null

VUS in appendix
Clear description of pertinent negative genomic variants
Flagged potential cancer-associated hereditary variants
Easy to find marker list located on last page of the report
Clear explanations of testing issues, if any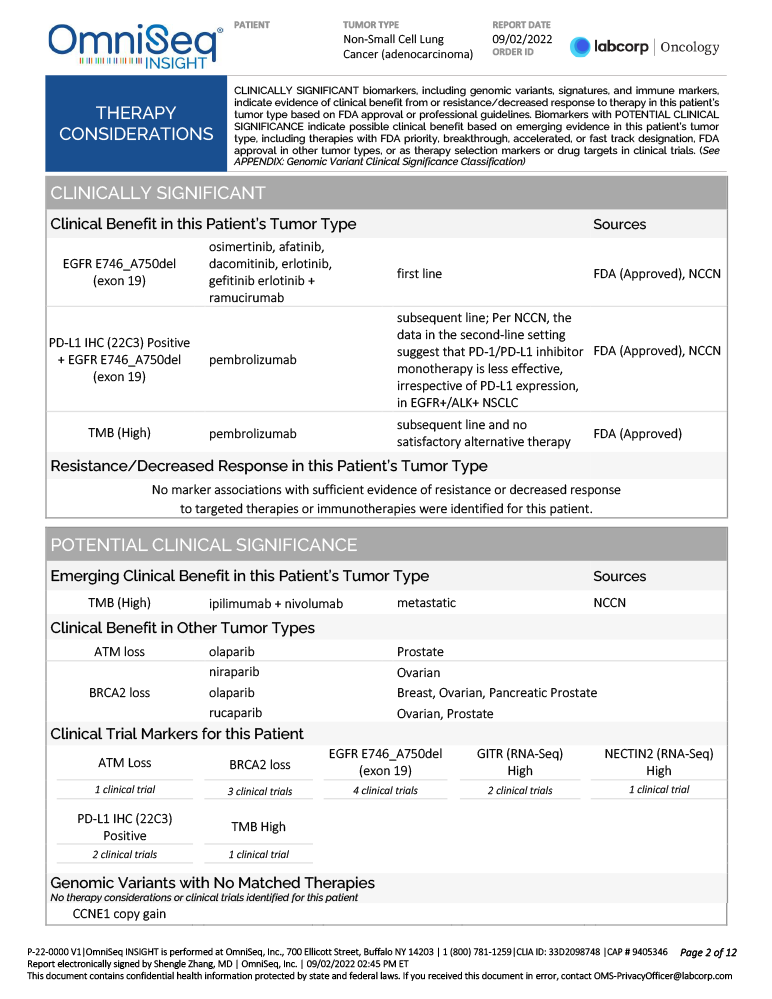 Explanation of clinical significance
Treatment settings and approval status
Multi-marker associations
Number of trial matches per marker
Sample requirements (include pathology report)
Formalin fixed paraffin embedded (FFPE) tissue
Resection specimens
Needle core biopsy specimens
Cell blocks from fine needle aspirates (FNAs)
**Do not submit decalcified specimens, cytology smears or samples from hematologic malignancies**
FFPE block (preferred) or 20 unbaked, positively charged, unstained slides cut a 5 µm plus one H&E
Turnaround time: 12-14 Days

See test menu for additional information
OmniSeq High Laboratory Quality Standards
NYS CLEP approved
ISO 13485 (2016) certified
CLIA and CAP accredited
Labcorp Broad National Coverage
In-network with most major health plans
1,600 contractual relationships with plans, payers and other healthcare organizations
References
1. OmniSeq Bioinformatics Knowledgebase - data curation January 2021.