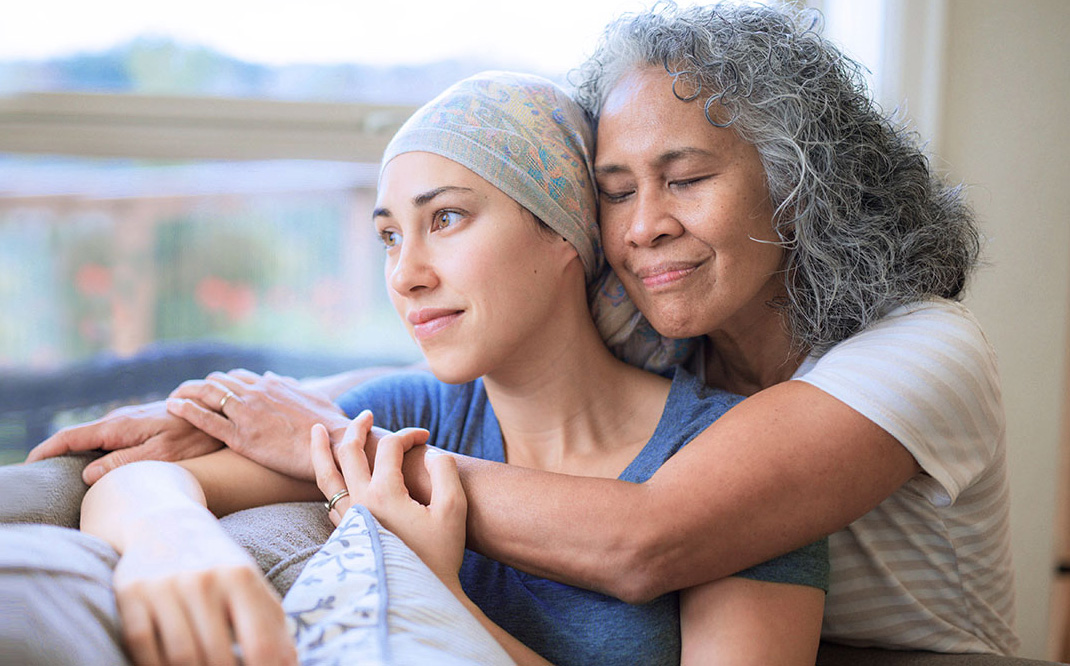 Immune Checkpoint Inhibitors
Overexpression of PD-L1 has been observed in many carcinomas including lung, urothelial, gastroesphageal junction, Squamous Cell Carcinoma of the Head and Neck (SCCHN), cervical, triple-negative breast cancer (TNBC) and melanoma
Tumor PD-L1 expression levels have been shown to be a predictive marker with response to several anti-PD1 antibodies1,2
Order PD-L1 Testing
If you have a Labcorp Oncology account, complete the test requisition form
If you do NOT have a Labcorp Oncology account, contact us for account setup
PD-L1 Testing
Immune Checkpoint Inhibitor Therapies
Sample Type
Drug Under Consideration
PD-L1 Testing
Cervical Cancer
pembrolizumab
DAKO (22C3) Companion Diagnostic Test1
Espohageal
pembrolizumab
DAKO (22C3) Companion Diagnostic Test1
Gastric / Gastroesophageal
Junction (GEJ) Adenocarcinoma
pembrolizumab
DAKO (22C3) Companion Diagnostic Test1
Melanoma
nivolumab
Testing not required
Melanoma
pembrolizumab
Testing not required3
NSCLC - Adencocarcinoma
atezolizumab
VENTANA® (SP142) Complementary Diagnostic Test4
NSCLC - Adencocarcinoma
nivolumab
DAKO (28-8) Complimentary Test5-7
NSCLC - Adencocarcinoma
pembrolizumab
DAKO (22C3) Companion Diagnostic Test3
NSCLC - Squamous
atezolizumab
VENTANA® (SP142) Complementary Diagnostic Test4
NSCLC - Squamous
nivolumab
Testing not required6
NSCLC - Squamous
pembrolizumab
DAKO (22C3) Companion Diagnostic Test3
Squamous Cell Carcinoma of the Head and Neck (SCCHN)
nivolumab
DAKO (28-8) Complimentary Test8
Squamous Cell Carcinoma of the Head and Neck (SCCHN)
pembrolizumab
DAKO (22C3) Companion Diagnostic Test1
Triple Negative Breast Cancer (TNBC)
atezolizumab
VENTANA® Companion Diagnostic Test9
Urothelial Carcinoma
atezolizumab
VENTANA® (SP142) Complementary Diagnostic Test9
Urothelial Carcinoma
nivolumab
DAKO (28-8) Complimentary Test8
Urothelial Carcinoma
pembrolizumab
DAKO (22C3) Companion Diagnostic Test1
sample type
Cervical Cancer
Drug Under Consideration: pembrolizumab
PD-L1 Testing: DAKO (22C3) Companion Diagnostic Test1
---
sample type
Espohageal
Drug Under Consideration: pembrolizumab
PD-L1 Testing: DAKO (22C3) Companion Diagnostic Test1
---
sample type
Gastric / Gastroesophageal
Junction (GEJ) Adenocarcinoma
Drug Under Consideration: pembrolizumab
PD-L1 Testing: DAKO (22C3) Companion Diagnostic Test1
---
sample type
Melanoma
Drug Under Consideration: nivolumab
PD-L1 Testing: Testing not required
Drug Under Consideration: pembrolizumab
PD-L1 Testing: Testing not required3
---
sample type
NSCLC - Adencocarcinoma
Drug Under Consideration: atezolizumab
PD-L1 Testing: VENTANA® (SP142) Complementary Diagnostic Test4
Drug Under Consideration: nivolumab
PD-L1 Testing: DAKO (28-8) Complimentary Test5-7
Drug Under Consideration: pembrolizumab
PD-L1 Testing: DAKO (22C3) Companion Diagnostic Test3
---
sample type
Squamous Cell Carcinoma of the Head and Neck (SCCHN)
Drug Under Consideration: nivolumab
PD-L1 Testing: DAKO (28-8) Complimentary Test8
Drug Under Consideration: pembrolizumab
PD-L1 Testing: DAKO (22C3) Companion Diagnostic Test1
---
sample type
Triple Negative Breast Cancer (TNBC)
Drug Under Consideration: atezolizumab​​​​​​​
PD-L1 Testing: VENTANA® Companion Diagnostic Test9
---
sample type
Urothelial Carcinoma
Drug Under Consideration: atezolizumab​​​​​​​
PD-L1 Testing: VENTANA® (SP142) Complementary Diagnostic Test9
Drug Under Consideration: nivolumab​​​​​​​
PD-L1 Testing: DAKO (28-8) Complimentary Test8
Drug Under Consideration: pembrolizumab​​​​​​​
PD-L1 Testing: DAKO (22C3) Companion Diagnostic Test1
1. Kim, JW and Eder, JP, Prospects for Targeting PD-1 and PD-L1 in Various Tumor Types. Available on the website of the Cancer Network. (http://www.cancernetwork.com/ oncology-journal/prospects-targeting-pd-1-and-pd-l1- various-tumor-types). Accessed July 8, 2015.
2. Garon, EB et al., Pembrolizumab for the Treatment of Non-Small-Cell Lung Cancer. N Engl J Med 2015; 372:2018-28.
Table References
1. Agilent DAKO 22C3 website; https://www.agilent.com/en/product/pharmdx/pd-l1-ihc-22c3-pharmdx/pd-l1-ihc-22c3-pharmdx-for-autostainer-link-48-94449. Accessed 8/4/2021
2. Opdivo® (nivolumab) Bristol-Myers Squibb Company, Princeton, NJ 08543; 2021
3. KEYTRUDA® (pembrolizumab) Merck and Co., Inc., Whitehouse Station, NJ; 2021.
4. VENTANA® PD-L1 (SP142) Assay package insert, 740-4859. 1016217US Rev A.
5. Agilent press release, September 18, 2017. Accessed on the Agilent website 08/23/21. http://www.agilent.com/about/newsroom/presrel/2017/19sep-ca17030.html.
6. TECENTRIQ® (atezolizumab) Genentech, Inc., A Member of the Roche Group, 1 DNA Way, South San Francisco, CA; 2019.
7. Cancer Research Institute website; https://www.cancerresearch.org/join-the-cause/cancer-immunotherapy-month/30-facts/04. Accessed 8/25/21.